Welcome
to

Mersey and Deeside Folk
MADFolk (Mersey and Deeside Folk) is the co-ordinating group for ten local folk dancing clubs in Northwest England in an area bounded by the rivers Mersey and Dee.

Here you can find details of each of the clubs, when and where they meet for their regular club nights and the social dances they organise.

If you have been to a barn dance or ceilidh you will have a good idea of what we do but at the clubs such as ours the range and style of dances encountered is much wider, but just as much fun.

We do a mixture of the more formal Playford style, which often has a specific tune for each dance, and general country/ barn dance type dances, which are done to jigs, reels, hornpipes, waltzes or polkas.

Music can be of English, Scottish, Irish, American origin or from anywhere else that the musicians fancy. We also do American squares and contras and indeed, any other traditional style dance which takes our fancy so there is something for everyone!

We are fortunate in having a number of excellent bands in the area who provide live music for our social dances.

The Diary gives a comprehensive list of folk dance and related events in the Mersey and Deeside area.

<![if !vml]>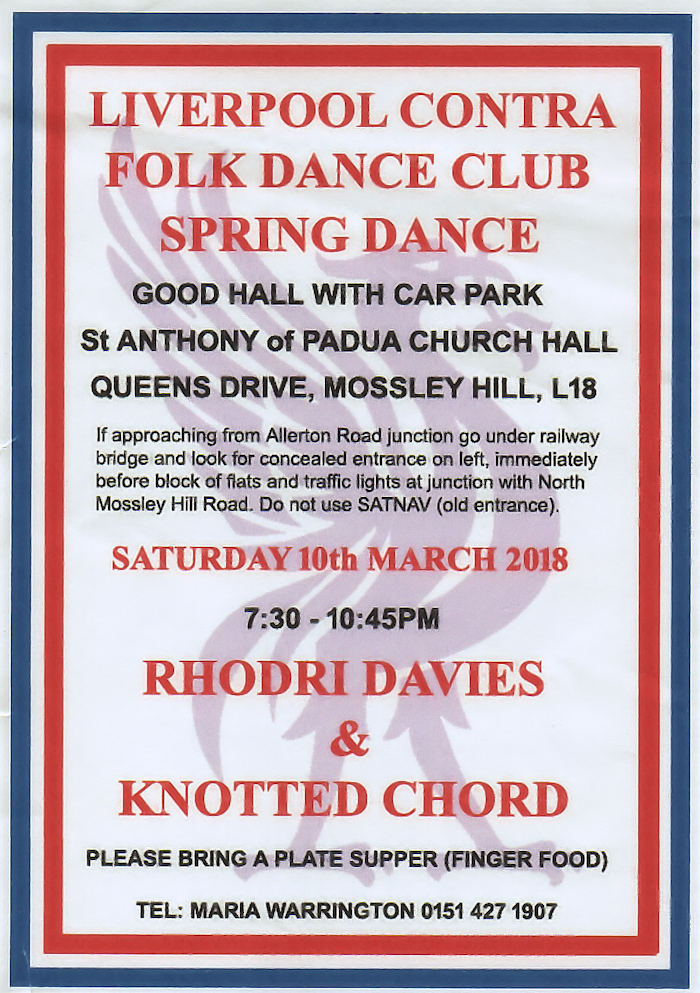 <![endif]>

Click on image to see full size

MADFolk produce an online Newsletter each Autumn and Spring with details of all events in the area, information about MADFolk and a range of folk dance related articles.

In addition, you are invited to subscribe to our email News Update service - you will be sent an email approximately every 2 months with all the latest information about folk dance related events in the Mersey & Deeside area and further afield.

We always welcome new members (singles or couples) or visitors with an interest in dancing.
DANCE ETIQUETTE
Read our guide